About Andrew Barkis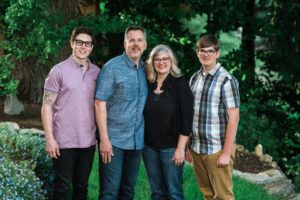 One of nine children growing up in Chehalis, Washington, Andrew had to start early when the need to help his family became necessary. At the early age of 11, he began his working career. He started his first business, a neighborhood landscaping company. He quickly added several accounts and along with them he took on delivering the local newspaper. Andrew was able to earn money to help his family through some very challenging times. Honing his skills in the Boy Scouts of America, his natural leadership skills shined as he emerged as a leader for his troop. He earned the rank of Eagle Scout, the highest achievement a boy can attain in scouting, exemplifying the leader in which he is.
Andrew continued on this path through his schooling. He graduated from Seattle University with a degree in Communications and completing the Army ROTC course while at Seattle University.
He was on his way to a future as an army officer when fate stepped in and took him another direction. A knee injury in the final training ended his military career.
Fresh out of school, he landed a job managing an apartment building in Seattle – and hasn't looked back since. The owner of Hometown Property management, a local residential property management firm with offices in Olympia and Yelm, Andrew has been in the property management field for over 27 years. Andrew and his wife, Lisa, live on Lake St Clair in beautiful Thurston County and have been married for 30 years.
They are the proud parents of two sons, Cameron, 28, and Evan, 19. The family enjoys doing anything outdoors, especially hiking the trails on their favorite Pacific Northwest Mountains, and taking vacations together.
Andrew's vision for the future includes the establishment of a non-profit foundation aimed at developing more affordable housing in South Puget Sound.
A proponent of community participation through volunteerism, Andrew is a longtime member of the Lacey Chamber of Commerce, Yelm Chamber of Commerce, Lacey Sunrise Lions, Gateway Rotary of Thurston County, and the National Federation of Independent Businesses.
He has been involved with Boy Scouts Troop 222 since 2000, and served on the boards of the Thurston County Boys and Girls Club for 6 years, and currently advises for Homes First. Since 1998, he also has remained an active member of the Olympia chapter of the National Association of Residential Property Managers. He holds his MPM (Master Property Manager) certification and his company holds the CRMC (Certified Residential Management Company)
We appreciate your support!